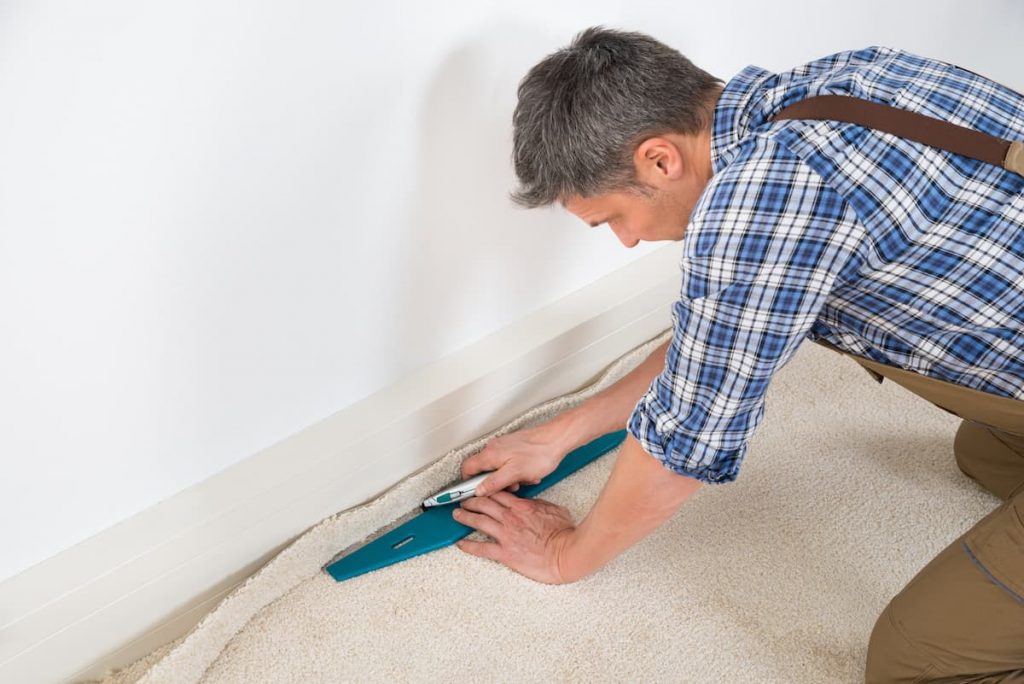 Professional Carpet Fitting Dublin
Carpet Flooring is a one of the best floors you can get for your home, as is changing the entire look of your home, carpet colour and pattern compliments the furniture and walls, is slip resistant, is comfortable and warm. Carpet flooring in Dublin is very popular, especially in private homes, hotels, creches or offices.
We are happy to help you with the entire process of carpet fitting in Dublin and all counties around Dublin. We are proud to say, that we make the installation process, easy, clean and hassle free, so you don't need to worry about planning, removing and disposal of your old floor or cleaning, just enjoy your day, whilst we will get your new floor installed.
The first step is to give us a call, to understand what your vision about the new floor that you want. Once we got a grip on what carpet you want, together will establish a visit with one of our carpet flooring experts to see the existing floor, subfloor, layout of the building and to take measures. So, we can advise you, what carpet will work best, how your new carpet will change the look of your home and how long will take to have your floor installed. Our Dublin Carpet fitting team has many years of experience in fitting various types of carpets, and most of the times gets the new floor installed in a day, depending on the project and requirements.
Choosing the carpet might take you a lot of time and energy, going from shop to shop, dealing with multiple types of carpet, not sure what accessories you will need for the installation, that's why we are simplifying the entire process and bring samples of carpet to your home. Another factor that is making the same carpet look different is the light, so you might find that a given carpet looks lighter in a carpet shop, compared to the same carpet in your own home. Colours of the objects around the carpet, as furniture or walls, contrast with carpet colour and might give a slightly different shade to your floor. In the comfort of your home, you can decide what carpet is making your family happy and how different carpet colours compliment the walls and furniture colours.
Another thing that is very important and is not given enough attention by some Dublin carpet fitting companies is the underlay. The underlay or underpad can make a big difference in how your floor feels under your feet and in the noise absorption. Other accessories that are imperative for your new floor, are grippers and trims. We recommend getting good quality gripers and trims and to have them changed with the carpet, although the old ones might be OK, the years of flooring experience showed to us, that old grippers and trims might shorten the life of your carpet.
Once you discussed all of this with our carpet expert, we will put together a free, no obligation carpet quote and we will send to you by email. Working with the best suppliers and keeping our running costs to minimum allow us to offer you the most cost effective offers of carpet flooring in Dublin whilst we keep the quality of our carpets and service high. We will follow up with a call and answer any questions you might have. We are happy to discuss and analyse with you any other carpet offers or different flooring options you might have in order to help you choose the best option for your flooring project.
When you are happy to go ahead, we will decide for a day when our Dublin carpet fitting team will come to your home and run their magic. We will have the carpet you choose, and accessories reserved for you, until they will be delivered by the fitting team. In our experience, the perfect days to get your new floor installed are when the home is not busy, per example when children are at school or when you don't have friends visiting, as might be difficult and result in delays when the house is full with people and materials. Keep in mind that carpet rolls and underlay rolls are voluminous, and you have basically two carpets in your house, the new one, and the one will be removed. For a quick installation, ideally the rooms will be empty, furniture removed where possible, big furniture pieces that can't be removed is recommended to be emptied, so can be easily moved.
The day when you'll get the best carpet flooring in Dublin arrived, is time to receive all materials, our team will store them carefully on site. Firstly, your flooring team will remove the old flooring (carpet or any other floor is there, grippers, underlay), revealing the subfloor, will clean it and fix it where needed, so is no dirt or uneven floor under your new carpet. Secondly, we will make sure your new carpet, will have a solid base, by professionally installing grippers around the perimeter of the rooms, underpad all over, and trims at doors. The old floor will be packed and stored in order to be disposed, later on.
We arrived at the most important part, installation of your new carpet, stage at which you can see your flooring project taking shape, still not ready, but is like a sneak peek into how your floors will look like. The floor fitters will carefully lay down the carpet, making sure that all floor is covered, will remove the excess carpet, stretching the carpet in order to avoid having bumps, will attach it safely at the walls, carefully removing the carpet excess left, with attention not to damage the skirting boards or walls. For big rooms, where two or more pieces are needed, we will match seams and weld the pieces together, so you will have flawlessly finished carpet fitting in Dublin or surroundings.
Lastly, we will clean all the carpet pieces left behind installation and remove all the fluff. Is the time to check how your new carpet looks, and to make the last adjustments if needed. This is a happy moment for us and for any homeowner, seeing the beautiful carpet laid. One of the things that drive us and motivates us is to see happy customers enjoying their amazing carpet floors.
So, if you are on our website and you are looking for Dublin carpet flooring, you are in the right place, just give us a buzz and we will make your dream came true. We serve all customers; no project is too big or too small.
For commercial spaces, like offices, creches, clinics, gyms, or hospitals carpet tiles are the best choice in order to deal with high wear and tear, to reduce carpet wastage or to have an easier maintenance, just to name a few. In Dublin carpet tiles are a very popular choice for commercial spaces, and you can find a wide variety of patterns and colours.
There are three types of construction for carpet tiles: tufted carpets – the vast majority of carpet tiles used nowadays, because they are quick to be manufactured and have a low cost; woven carpets – produced on a loom, this kind of carpets are usually used for high end flooring projects; needle punch carpets – less versatile in how they look or feel, this carpet type is a good choice for entry mats. Carpet tiles are made of various fibres, like wool – give us a strong, luxurious and stain resistant product; polypropylene – fade and stain resistant; nylon – give us a strong and strong resistant carpet tile; polyester – give us a less expensive carpet tile; recycled materials – such as plastic bottles or fishing nets, is a durable and sustainable carpet tile option.
Our Dublin carpet tile fitting team will start by removing old carpet tiles or any other old floor, in the case of new buildings, we might need level the floor with a layer of self-levelling cement-based compound. Next, you'll need to decide what pattern should we use to lay the carpet tiles: brick, ashlar, random, monolithic. We will arrange a small demo, so you can see how this will look. Then the fitters will draw lines and apply the glue. Carpet tiles do not require any underlay or backing, as they have integrated backing. Next the carpet tiles will be laid, and trimmed where needed, at walls and doors. Last step will be to remove any cut off and clean the floor and we are excited to look at your new Dublin Carpet tile floor.
As we want you to be happy and enjoy your carpet tile floor for as long as possible, we think maintenance is really important and a maintenance plan should be put in place. We are happy to help with repairs or any questions you might have.
Are you ready to give your floors a new and classy look? We are here to help!!! Give us a call and we will take care of your project from start to finish!!!